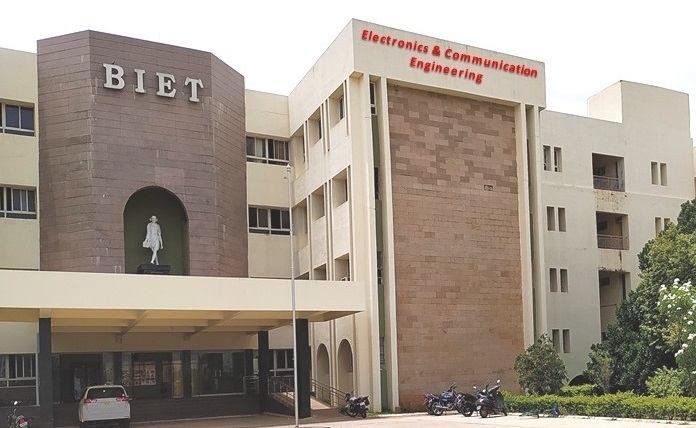 Department of Electronics & Communication Engineering was established in the year 1979 with a vision to promote and maintain academic and professional excellence in technical education and research field. The department has well qualified, self-motivated, experienced and committed teaching talent whose main focus is on the Teaching- Learning with the right balance in research. Presently department has five doctorates and seven faculties who have registered for their PhD program are at different phases. The Institute is accredited by NAAC in 2017 with A Grade and NBAin 2021 for three years(2021-2024). Since its inception, student intake for E&CE branch has gradually raised from 30 to 120. The pass percentage of final year students is above 95% consistently. The department has to its credit a total of 35 ranks under Mysore/ Kuvempu/ Visvesvaraya Technological University.
Department has adequate infrastructure. The laboratory facilities include sufficient number of personal computers with LAN connectivity, internet facility and state-of-the-art software packages and hardware worth approximately Two Crores and are regularly upgraded. Department is equipped with overhead projector, LCD projectors for lecture delivery, seminars and demonstration purpose in addition to ICT enabled classroom.
In addition to Central Library, Departmental Library has 3358 volumes with 515 titles, which includes academic and competitive related books that can be accessed by faculty and students.
Five sponsored projects have been executed by the department under TAPTEC & MODROB of AICTE, New Delhi.The Karnataka State Council for Science & Technology (KSCST), Bangalore, has sponsored 138 projects from Department of E&CE of which 37 projects have been selected for State Level Project Exhibition and Seminar. Four times the department has won Best Project of the Year award, instituted by KSCST, Bangalore. Every year two to three projects are selected by KSCST. Consecutively for three years 2016 to 2018 final year projects have received BEST Project award from ISTE. Proindo Keys, an On-going project under New Age Incubation Network (NAIN) is sanctioned with an amount of Rs.170000/- .
MOU has been signed with companies like Whizchip Design Technologies Pvt. Ltd, Test & Verification Solutions, VI Solutions, Fiabilite Network Solutions Pvt. Ltd, Bangalore and Vidvath Technologies Pvt. Ltd, Davangere.
Under Continuing Education Programme (CEP), few of the faculty members have submitted their course materials. The faculties are actively involved in research activities and have presented/published technical papers in various National & International Journals/Conferences. To keep updated with current technologies FDP/Workshop/Seminars are regularly organized in association with industries. Faculty interact with other institutions for delivering expert lectures, as resource person for workshop and Chairing sessions in Conferences. In-house Value Added Training programs will be organized by faculty for the students. Department has the credit of organizing First National Conference on Recent Advances in Electronics and Communication Engineering NCRAECE-17 on 13th October 2017. Faculty are member to professional bodies like ISTE, IETE & IE.
The students are not only encouraged to excel in their academics but continuously motivated and encouraged to involve themselves in various co-curricular and extra- curricular activities. This is achieved through EC Forum by organizing various technical seminars, workshops and invited lectures exclusively for the students by renowned persons from industry, academics and R&D centers. This helps the students to be exposed to the emerging and state-of-the art technological developments in EC arena. EC forum provides an excellent platform for students to exhibit their talent during E-Utsav, a Technical cum Cultural fest held every year and other such events. A State Level Paper Presentation Event-PAPYRUS is organized under the forum since 2015.
Along with ISTE Students' chapter, IETE Students' forum (ISF) was initiated in the year 2017 under IETE Center, Shivamogga. Student activities are regularly conducted under this forum.
During the year 2022-23 students have secured admissions in the department of E&CE, BIET through the entrance exams CET, COMED-K and DCET. The details are furnished below
Qualifying Exam
Approximate Cut-off Rank
CET
First Rank &nbsp 3668
Last Rank 36392
COMED-K
First Rank &nbsp 25215
Last Rank 44940
DCET
First Rank &nbsp 443
Last Rank 1345
For every 15 students there is a Counselor/ Mentor who regularly interacts with the students to guide and motivate them in academic and all round development.
Department is proud to state that Mr. Darshan Hadadi has bagged 10th Rank for the academic year 2018-19 and Ms.Aishwarya K M secured 10th Rank in VTU for the academic year 2019-2020.
Scope for the higher studies in India and abroad in Electronics & Communication are excellent and diversified. Our alumni are spread across the globe and have pursued higher education both in India & abroad in various esteemed institutions and universities. Many of our alumni are doing well in their chosen areas and are well placed in excellent organizations like Qualcomm, Cadence, Texas Instruments, Cypress, ISRO, BEL, T&VS, Whiz Chip, Mistral, TCS,HCL, Mindtree, Wipro, Sankalp Semiconductors, CLEO and so on. It is of great privilege to inform that few of our alumni have emerged out as successful entrepreneurs, excelled in Civil services, working for NGOs.