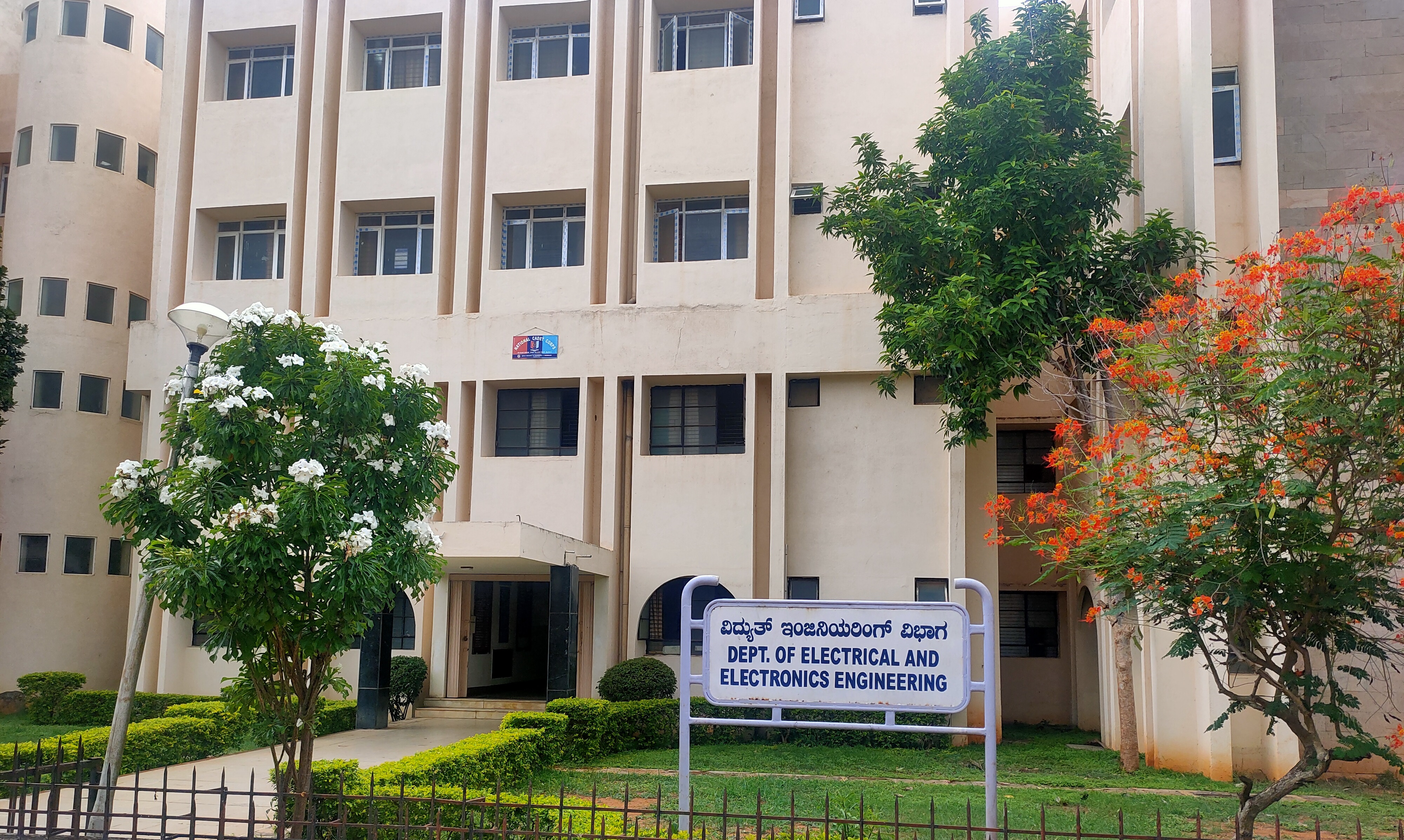 Department of Electrical & Electronics engineering was started in the year 1979 with an intake of 40 students. During 2009-2010, the intake has been enhanced to 60 due to increased demand for the course. The Department was accredited by National Board of Accreditation, AICTE, New Delhi for three times [1999-2011]. The department also recognized by The Institution of Engineers (India), Kolkata.
The Department has a broad based UG curriculum & the syllabi of the courses are continuously updated and the laboratories modernized to reflect the rapid changes in technology. The department is equipped with the latest experimental and computational facilities to meet the curriculum. The major laboratories in the department are Electronics, Microcontroller, Machines, Control system, Power system simulation & High voltage & relay.
Department is recognized as research center during 2009 from VTU, Belagavi and it offers quality research in the Ph.D program. Department is recognized as research center during 2009 from VTU, Belagavi. The department encourages faculty members / under graduate students to pursue higher studies in M Sc (Engg.) by research & doctoral programmes. Research scholars are working in the area of power systems and artificial intelligence.
The department has testing facilities for carrying out industry sponsored research and consultancy projects. Department is involved in consultancy work like testing of Motors, CTs, Energy meter and Transformer oil.
Department has Electrical forum. Students are motivated to develop co-circular & extra circular activities though forum. Every year, Electrical forum organize State level paper presentation "IMPULSE" and interdepartmental competition "VIDYUTH".
Several lectures, workshops, and conferences are a regular feature in the Electrical &Electronics department. This is an opportunity to meet eminent speakers and exchange ideas. Regular technical tours are arranged to visit the electric power plants, substations, research institute switchgear industries etc.
Department will conduct training programs for students. Every year about 80% of our final students used to place in various organizations such as software companies, electricity board, hardware and construction companies.
We have department library with 1000 volumes & 500 titles. Every year books are added to the library from the forum. Two books are issued every semester to students and they can retain for entire one semester.
Students are trained under various programmes like Hard skills, Soft skills & Personality development programme. These training programmes are organized in collaboration with well known organizations. Seminars and Guest Lectures by experts from Industries and academicians are regularly being arranged through Industry Institute Partnership Cell (IIPC). The placement is found to be good and the students are placed in reputed companies like Infosys, TCS, MindTree, L &T, BEL, CYPRESS, CTS, Wipro, MSPl. About 80 % of eligible students are placed in reputed companies.